Parts & Services
Our experienced aftermarket service group specializes in providing:
Spare Parts, Hot Zones and Field Service
Furnace Maintenance Programs
New Replacement Chambers
Furnace Upgrades and Retrofits
Furnace Rebuilds
Furnace Controls
Everything you need to keep your furnaces operating and current with the latest technology is available from the leaders in high performance furnaces.
At Centorr Vacuum Industries, our dedicated team of experienced field service engineers and technicians offer cost effective, flexible ways to replace, upgrade or refurbish your existing vacuum furnace, in-house or on-site. You can count on our comprehensive service and replacement parts for any vacuum furnace with hot zones ranging from 500°C to 3500°C - our own make or anybody else's.
Rapid delivery of spare parts and prompt response to service calls are commitments of Centorr Vacuum Industries and many commonly used spare parts are available from inventory for immediate shipment. Any parts not on hand can be fabricated quickly in our facility. A list of recommended spare parts is provided with each furnace to allow the customer to manage optimal inventory levels, and CVI's internal inventory is controlled through a computerized order control system.
In addition to providing spare parts, service, retrofits and upgrades, Centorr Vacuum Industries offers a complete furnace rebuild capability. This capability applies not only to CVI furnaces but to those of other manufacturers.
We offer complete controls updates or overhauls replacing obsolete equipment with the latest model, or transitioning from traditional process-based controllers (such as Honeywell, Yokogawa, or Eurotherm), to the latest in PC/HMI computer controlled systems with touch-screen interface.
CVI also offers its own line of vacuum-rated inert gas cooling fans in various sizes for all makes and models of furnaces.
---###---
Used Furnaces
RECONDITIONED FURNACES FOR SALE
Pre-owned Furnaces Professionally Reconditioned by Centorr Vacuum Industries
Centorr Vacuum Industries currently has no used furnaces for sale.
Please check back frequently, as refurbished used vacuum furnaces become available on an ongoing basis.
Centorr Vacuum Industries is interested in buying back any used CVI furnaces you have for sale. Please contact Dan Demers for more information at: ddemers@centorr.com
Centorr Vacuum Industries, 55 Northeastern Blvd, Nashua, NH 03062
Tel: 603-595-7233 · 800-962-8631 (US only) · Fax: 603-595-9220
E-mail address: sales@centorr.com
---###---
Quarterly Sale
Aftermarket Dept. Sale -- Good through SEPTEMBER 2017
10%
Receive a 10% discount on the following Centorr/Vacuum Industries, LLC. replacement parts:
Copper Power Feedthrus & Copper Fritz Clamps
O-Rings & Gasket Seal Kit
Vacuum Sensors
Temperature Thermocouples
5%
Receive a 5% discount on the following Centorr/Vacuum Industries, LLC. replacement parts:
Refractory Metal Hot Zone Components and Complete Hot Zones
Graphite Heating Elements, Excluding Optic Fiber Elements
Raw Stock Graphite Board, Graphite Felt & Graphite Yarn
Gettering Furnace Accessories Only
NOTES:
1- These offers cannot be combined with any other sale offers.
2- These offers do not include field service or lab work.
CENTORR VACUUM INDUSTRIES LLC. OFFERS
VACUUM FURNACE UPGRADES FOR
IMPROVED PERFORMANCE AND LESS DOWNTIME!
THESE UPGRADES WILL SAVE YOU TIME AND MONEY!
WATER SYSTEM:
The old water system has a paddle flow switch and flow indicator that sticks in the open position, which is a safety issue.
New System - Advantages of Digital Flow Systems:

Longer life of flow sensor compared with Flotek brand sensors.
No moving parts in flow sensor, therefore less sensitive to Calcium Oxide and other mineral buildup typical in "flapper" style flow sensors.
Provides for direct visual feedback of water flow with "red light/green light" indicator lights on each individual sensor - greatly helps with troubleshooting water flow problems.
No glass site windows that get clogged, or discolored after 1-2 years.
HOT-ZONE GRAPHITE:
Old design, hot zone graphite felt with graphite yarn sewn to stainless steel body, doors, etc.
New design single or multi layered rigid graphite board fastened with CFC threaded rod and HLM nuts. For a harsh environment, add CFC plate on the hot-face to protect the rigid graphite board.
PNEUMATIC SYSTEM:
Old design, Humphrey air valves on manifold.
New design, SMC air valve on air manifold for half the cost and less downtime.
-xs-12
PYROMETER TEMPERATURE SENSING SYSTEM:
Old design, one (1) color and two (2) color pyrometer temperature sensing system with gray box, etc. that are not as accurate as the new style pyrometer.
New design, two (2) color pyrometer temperature sensing system which is more reliable, and accurately reads temperature directly on the controller. C/VI will also offer an auto T/C cross-over combination T/C to the OP.
VACUUM INERT GAS FAN COOLING SYSTEM:
C/VI offers several sizes, 2Hp, 5Hp, 10Hp, and 25Hp Vacuum Inert Gas Cooling Fans.
Reduce Thermal Cycle that would allow Customer to run more cycles per week.
Options to add Heat Exchanger, Variable Speed Control, Front and Rear Shutter Actuators.
For further information regarding this sale or any spare parts you may require, please contact the appropriate Aftermarket Services Representative listed below:
---###---
Applied Technology Center Laboratory Testing
Centorr Vacuum Industries Applied Technology Center is equipped with laboratory size state of the art furnace equipment that you can use for high temperature processing of advanced materials. Our experienced staff can offer you a unique "try before you buy" opportunity to evaluate your advanced materials processing method and better define your equipment needs, and we are pleased to offer this service to you.
Use of one or more of our laboratory furnaces has been found helpful by several corporations in the Metals, PM/MIM, Hardmetals, Ceramics, Refractory Metals, Powders, and Advanced Materials Industries. We hope the same may apply to your group.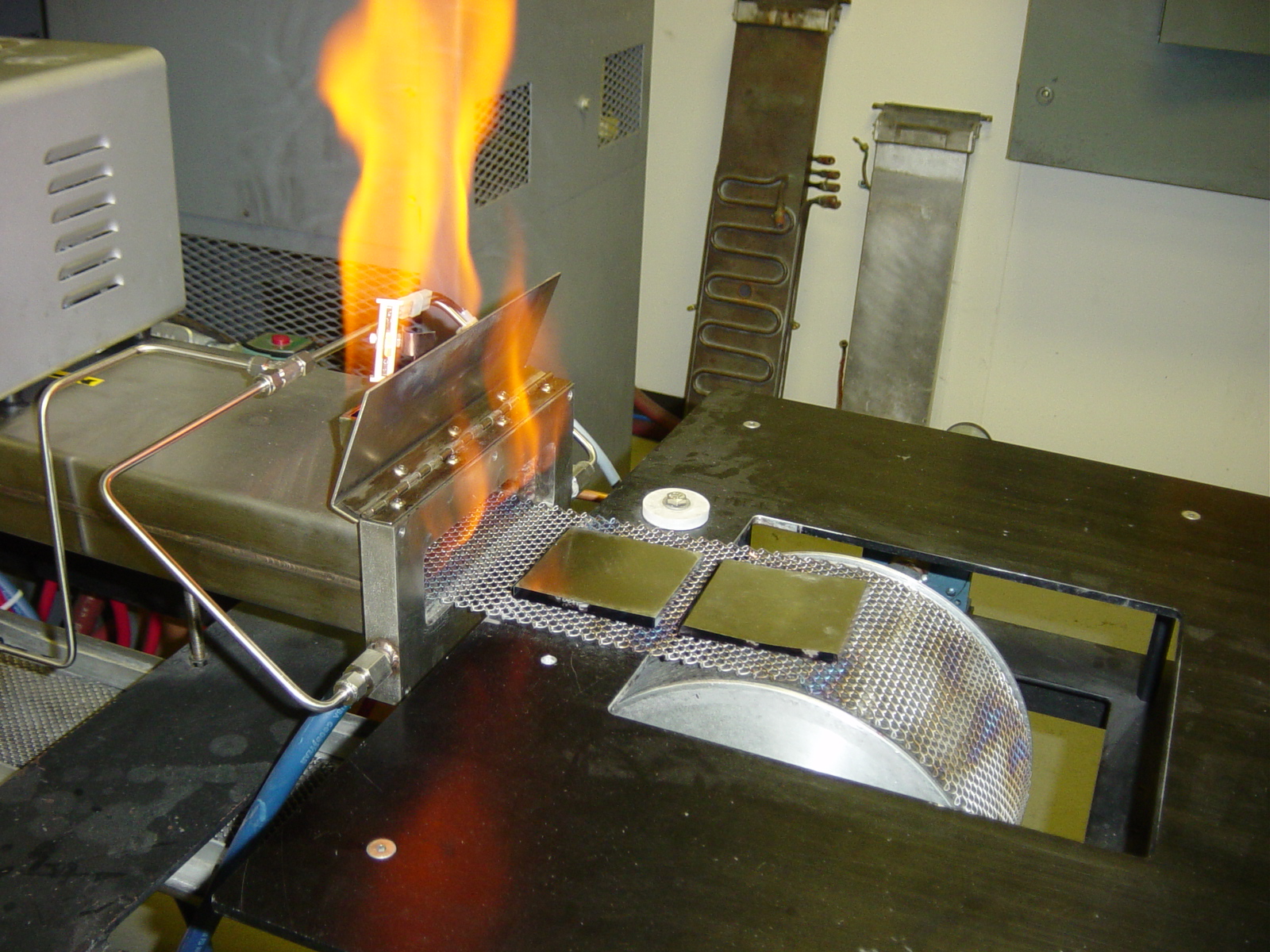 OUR EQUIPMENT AND STAFF ALLOW YOU TO:
Process materials on an as-needed basis
Test new materials
Fine-tune processing parameters
Help narrow down furnace selection criteria.
Confirm feasibility of new projects.
OUR ANALYTICAL EQUIPMENT INCLUDES:
System VII Graphite-lined sintering furnace 2800°C
System VII Tungsten-lined sintering furnace 2200°C
Transparent test furnace
LECO Carbon Analyzer
Metallographic Preparation
Air-fired debind furnace
Quadrapole Mass Spectrometer/RGA
Inert Gas Purifier / Oxygen Monitor
CVI'S APPLIED TECHNOLOGY CENTERS ANSWERS THESE QUESTIONS:
How fast can you cool your load without affecting physical properties?
Can you fire your product in a less expensive Graphite-lined furnaces?
What is the minimum soak time required for the desired theoretical density?
Is positive pressure, or partial pressure environment best?
Do I need Hydrogen process gas for carbon control?
How fast can I ramp or cool my product without thermal shocking it?
RESEARCH AND DEVELOPMENT
Our R&D laboratory is fully equipped with the latest designs in high-temperature furnaces and staffed with designers, mechanical and material technicians who can help you shape your ideas into workable processes and products.
PROCESSES INCLUDE:
Brazing
Physical Testing
Diffusion Bonding
Metalization
Annealing
Continuous Processing
Sintering (vacuum and positive pressure)
Combined debind and sinter furnaces.
CENTORR VACUUM INDUSTRIES
APPLIED TECHNOLOGY CENTER
LABORATORY CAPABILITIES
The Applied Technology Center of Centorr Vacuum Industries is available to process customer's products and develop process cycles for advanced materials.
Furnace/Equip
Batch Furnace
A - Graphite
Batch Furnace
A - Metal
Batch Furnace
B - Graphite
Induction Melt
Arc Melting
Continuous
Belt Furnace C
Hot Zone Size:
6"W x 6"H x 15"D
(9" inside elements)
6"W x 6"H x 15"D
(9" inside elements)
6"W x 6"H x 15"D
60mm dia x 140mm H
2.3 kgs (5 lbs)
2"dia x 1"H
(<100g)
6"W x 1"H x 36"L
Hot Zone Element:
Graphite
Tungsten
Graphite
Induction
Tri-Arc
Tungsten
Hot Zone Shields:
Graphite
W/Mo Shields
Graphite Felt/Board
AI2O3, MgO, ZrO2
or Graphite/Clay Crucibles
water-cooled copper base
W/Mo
Max. Temperature:
2200°C in Vac/Inert Gas 2000°C in H2
2200°C in Vac/Inert Gas 2000°C in H2
2800°C in Vac/Inert Gas
<2400°C in Vac/Inert Gas
<350°C in Inert Gas
2000°C in Inert Gas 1600°C in H2
Max Vacuum:
1x10-6
1x10-6
1x10-5
N/A
N/A
N/A
Max Pressure:
0-3 psig
0-3 psig
0-3 psig
Slight Pos. Press.
Slight Pos. Press.
Slight Pos. Press
Positive Pressure Atmos. Avail:
H2, N2, Ar, Forming Gas (0-3 psig)
H2, N2, Ar, Forming Gas (0-3 psig)
N2, Ar, Forming Gas
N2, Ar, Forming Gas
Ar, He
N2, Ar, Forming Gas
Vacuum System:
Rotary Vane Pump/Varian Diffusion Pump w/Baffle
Rotary Vane Pump/Varian Diffusion Pump w/Baffle
Binder Removal Pump Holding Pump Diffusion Pump
Rotary Vane Pump/Varian Diffusion Pump w/Baffle
N/A
N/A
Binder Removal:
None
None
Yes
N/A
N/A
Minor
(<2-3%)
Belt Speed:
N/A
N/A
N/A
N/A
N/A
0.1"-5"/min
Rotavac Usage:
N/A
N/A
5" dia x 13" tube
N/A
N/A
Minor
(<2-3%)
Retort Usage:
I/I 5"W x 5"H x 11"D
N/A
I/I 5"W x 5"H x 11"D
N/A
N/A
N/A
---###---
售后服务
技术服务及零配件等,请联系:010-8261 9608,18601013800@126.com
联系我们
电话:010-82619608
手机:18601013800
电邮: 18601013800@126.com
留言我们